The Women's Health Giveaway
Enter for a Chance to Win!
Stress can build over time and become harder for our bodies to adapt and cope. For women, the most common symptoms of stress are fatigue, irritability, sleep issues, lack of motivation, digestive challenges and nervousness. That's why we created Peaceful Mama™. This natural formula provides stress support and emotional balance for moms in all stages of life.

In honor of Women's Health Month, we're giving away a 3-month supply of Peaceful Mama™. Additionally, we're giving away other self-care items like essential oils, a yoga mat, mindfulness cards, lip sleeping mask, and even a Stanley cup to help with all-day hydration. The total Giveaway value is over $370!
Enter below to win!
Over $370 worth of products!
The Women's Health Giveaway Includes: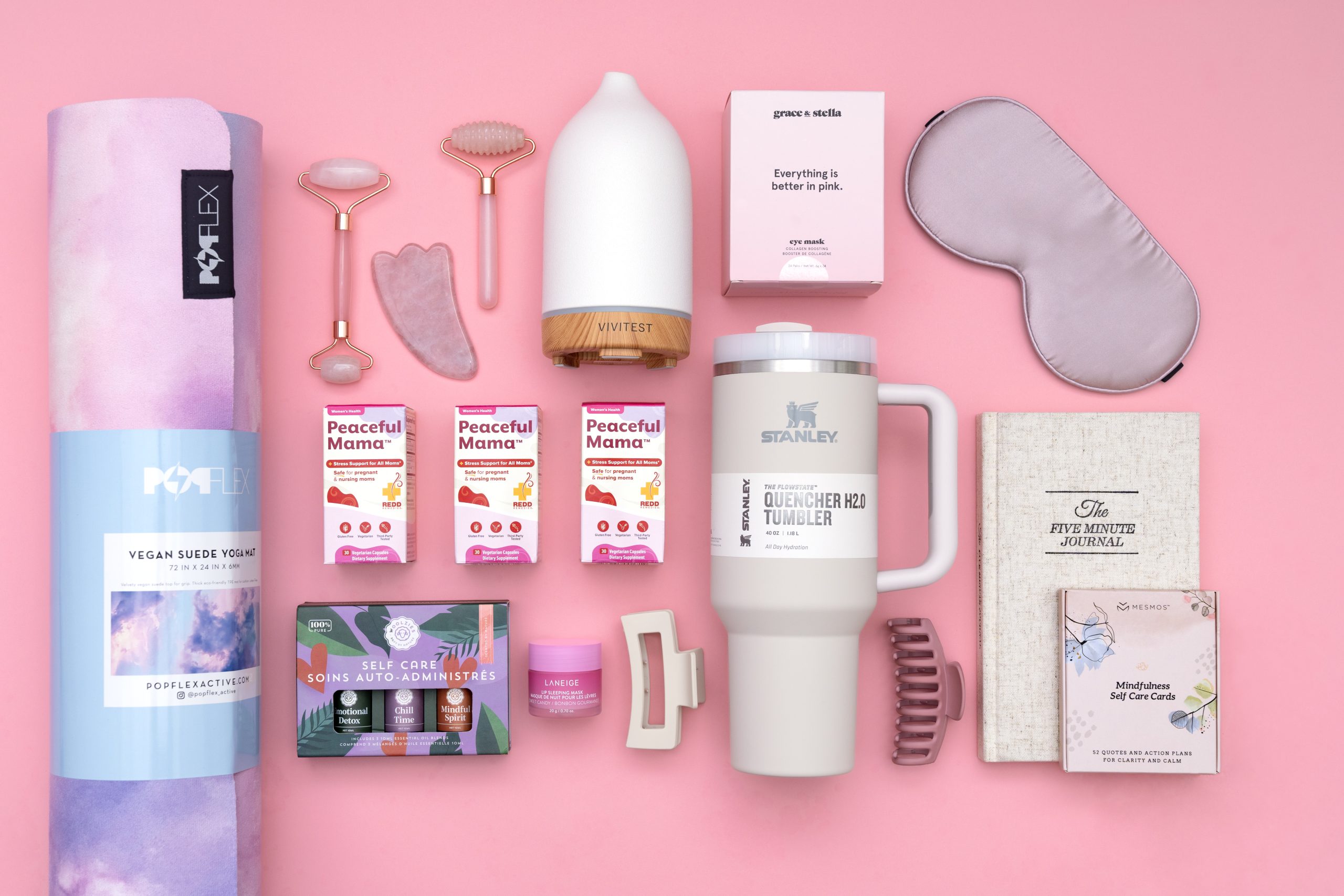 Check out all the great products the winner receives in this Women's Health Giveaway.*
(3) Peaceful Mama™ ($89.97)

Provides stress support for moms in all stages of life. This product promotes blissful peace and emotional balance as well as a calm, healthy digestive system.

(1) 40 oz. Stanley Cup ($60.69)

Treat yourself to trendsetting, all-day hydration with our Quencher H2.0 in Soft Matte. This dishwasher-safe water bottle is sleek in style and fits in nearly every car cup holder while keeping your beverage chilled.

(1) Yoga Mat ($59.00)

Our luxury vegan suede yoga mat strikes the delicate balance of durable, dependable, and that just-right "thick mat" texture you're looking for in a yoga mat. Non slip mats don't get better than this!

(1) Essential Oil Set ($15.29)

The Self Care Collection is a set of the most premium, high-quality essential oils. It has magical aromas and healing properties that can be inhaled, diffused, and used for cleaning.

(1) Oil Diffuser ($33.14)

Electric aromatherapy diffusers can last for 3-5 hours. Designed with a waterless auto-off function to turn off automatically after a set time.

(1) The Five Minute Journal ($24.99)

The 5 Minute Journal for women and men is specially crafted for positive manifestation and improved confidence as you get on with your day.

(1) Roller and Gua Sha Set ($18.97)

After cleansing and toning, use the small roller for eyes, and the ridged roller to relax the skin and boost healthy blood flow. 2-3x a week, use the Gua Sha Facial Tool for a deep tissue massage.

(1) Hair Clips Set (10 Pack) ($9.99)

You will get 10 pack hair clips in 5 different colors. Each hair claw clip is 3.5 inch and suitable for thin hair. They are compact, making them easy to carry and use for any occasion.

(1) Lip Sleeping Mask ($24.00)

A leave-on overnight lip mask that soothes and moisturizes for smoother, more supple lips.

(1) Mindfulness Cards ($10.76)

Choose one of the 52 positivity cards each day, reflect on the inspirational quotes from renowned thought leaders, then take the action steps at the back of each card to transform your self care routine.

(1) Under Eye Mask ($17.54)

Reduce puffiness, bags and swelling with these cooling under eye hydrating mask, and enjoy "me-time" while reducing the signs of aging, smoothing under eye wrinkles, and dry under eye skin.

(1) - Silk Sleep Masks set (2 Pack) ($8.99)

Our 100% silk eye mask for sleeping is naturally breathable and calming to your facial skin to deliver a faster and sweeter sleep while keeping your eyes relaxed.
Giveaway ends on Wednesday, May 31st at 11:59pm PST. We will select the lucky winner* at random on Friday, June 2nd.
*Winner will be notified within 3-5 days.